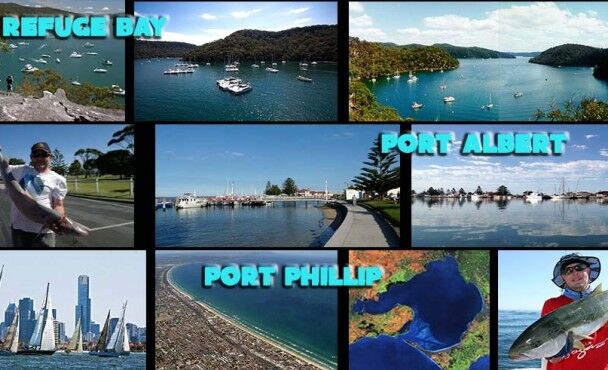 Melbourne Boat Cruises! NEW LOCATIONS!
This New Year 2016 we have some exciting new Melbourne luxury boat cruises for you! Take our boats and experience tons of new destinations. The Melbourne boat cruise will depart in 1st April 2016 in April when the winds are lighter.
Departure Friday the 1st of April at 5:30pm to Queenscliff
The first leg of the journey will be to Queenscliff for the night and a refuel, distance is 22 nm from Docklands. The plan weather permitting will be to clear the heads at dawn with Tim our Master V Skipper leading the convoy of three vessels. Both Riviera's and the Show Pony will be going on the voyage. Its a great opportunity to navigate the rip learn new skills and make new friends. we suggest those who come along have a strong constitution against sea sickness. According to myth busters take ginger tablets. We will organise overnight accommodation on the boats or at a near by hotel. The costs of the journey are to be shared which includes fuel, drinks, catering and paying skippers and on board catering.
Refuge Cove

http://www.theprom.net.au/Wilsons_Prom_Refuge_Cove.html
Its about 64 NM to Refuge Cove from Queenscliff. We plan do conserve fuel and cruise between 15 to 20knots.
Plans are underway to take our club boats to Refuge Bay, a pristine bay where you can swim and fish for the day.
Priority reservations will be provided for the Class 2 & 3 ocean-going members. Each Melbourne boat cruise trip can take up to 28 members so you will also get a chance to do some great networking.
Port Albert
http://portalbert.vic.au/activities/fishing/
The next leg of the journey is to Port Albert for a fuel stop. Take advantage of this overnight stay and try out Port Albert's local offerings. The return trip will be next day.
Members will be asked to contribute to the fuel, our master v skipper who will be our guide, accommodations, and meals.
Port Phillip Bay
Learn some handy new navigation skills about departing and entering the "rip" entrance of Port Phillip bay! The return trip will by Portsea, sorento, Martha Cove back to Sandringham for a dinner.
"The Rip" is a dangerous stretch of water in connecting Port Phillip and Bass Strait. It's important to learn the skills for this, as it is the ONLY way in and out of Port Phillip into Melbourne.
Take the challenge and earn some much deserved boasting rights!
This is the Melbourne Boat Cruises you've been waiting for!
Join the Club and RSVP Today!
2-Day Trip Form
Thank you for filling out this form and we will get back to you by the next business day.
Jan 7th, 20160 comments