What Boating Services are Provided?
We provide a range of self-drive boats or our Yacht Charter service with a qualified skipper. Our Voodoo Yacht Charter service caters for:
Celebrations
Wedding Photography
Private High Speed service between Docklands to Mornington, Portsea, Sorento , Werribee
Marriage Proposal Cruises
Spring Racing Transfers
Seal and Dolphin Watching
Off the beach swim parties
Hens Parties
Corporate meetings
Overnight stays
Why buy a Boat When you Can Enjoy it by the Day?
Our boating plans s more affordable than you think. It's actually great value compared to the hassles of owning a boat. You may enjoy our entry level Mustang 28 Sports Cruiser "Sally" or our top of the range of Riviera Sports Cruiser with a professional skipper for a fraction of the cost of boat ownership. So what is the cost of owning a boat? Check out our video!
Who are our Guests?
Pleasure Cruising guests come from many different spheres in the society. They are tradies, truckies, small business owners, sales directors, IT professionals, doctors, lawyers, teachers, footy players, CEOs, finance brokers, insurance consultants and government employees. Many of them have never tried boating before. Some have owned a boat and after enjoying joining Pleasure Cruising services , made a vow to never own a boat again.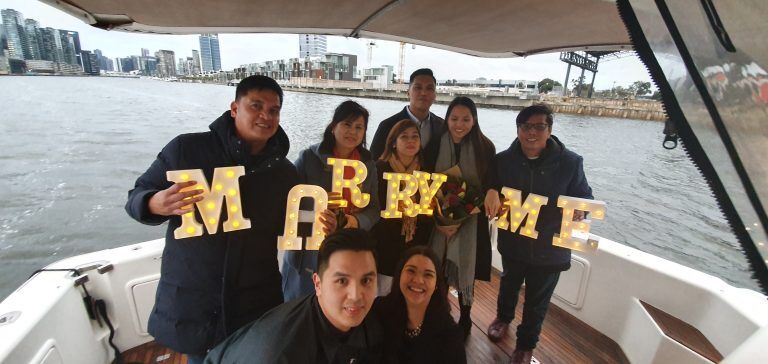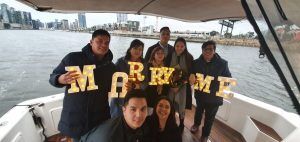 Do I pay for fuel?
For our skipper or charter service fuel is included in our charter rate. For our self-drive program our boats are provided with a full tank, but you pay for the fuel you use just like in car rentals. On the completion of your day, we fill the boat for the next use.
What power boat operators course is provided?
To self-drive our Mustang Cruiser you must have a boat license and attend our skipper school with the following T&C's
When valid current boat license is presented

Our hands-on course covers most important skills include parking, emergency radio work, navigation GPS, ropes and refuelling the boat.

We also offer night training course
Pleasure Cruising ensures that all instructors have considerable years of boating experience and have commercial qualifications.
Do you provide safety gear?
We provide Personal Floatation Devices (PFD's) for adults and children at all times. We also allot ship-to-shore radios, flares and satellite tracking devices. All vessels have GPS, which shows the boat's position and water depth. Proper use of all the safety gear, especially in emergency cases, is covered in personal training we conduct.
What other expenses do I have to pay for?
You don't pay for insurance, maintenance, berth fees, cleaning, boat depreciation and the boat. All those are included in your yearly membership plan. You just pay for the initial entrance fee, which includes ten hours of on the water instruction and for fuel usage.
Do I need to reserve the boat in advance?
We have a on-line reservation system on our website and bookings
What if the weather is bad on the day of my reservation?
We can't control the weather – sadly ! But we have a bad weather cancellation clause and you can reschedule to a later date when the weather is more to your liking.
Can I buy a boat and place it in your club?
Yes, you can, if it meets our stringent safety requirements and only if your boat is a luxury brand. No petrol vessels are considered. Why not ask about our investor program. Note that Rivieras are built to survey standards and are readily accepted in our club.
Can we stay overnight on the boats or take the boat away for the weekend?
Of course! A AIRBNB type stay is catered for during "off season" months at New Quay marina overnight because of its charming location with many restaurants around the marina. Other members take the boat and stay in seclcuded and interesting places around the bay. Queenscliff is very popular because of its location with a brand new marina and a convenient ten-minute walk to the centre of town.
Do I have to clean the boat after use?
No. Just hand back the keys and we will have it cleaned before your next return. However, we ask you to be tidy and considerate and treat the boat as if it's your own property.
Can I Fish on a Boat
Yes. We have Rods and a Tackle service.