Why Charter Boats in Melbourne?
Join the Club!
Riviera is a widely recognized brand for luxury boating in Australia. Why not enjoy the Melbourne waterways on a Riviera M400 Luxury Sports Cruiser as a crew member of the club?
The Riviera is equipped with twin berths for added privacy. It has great entertaining space and can take up to ten guests. It has provisions for BBQ and indoor/outdoor plasma TV. Full kitchen facilities are available. BYO food and drinks are allowed, unlike in charter boats in Melbourne. Our vessels can accommodate between two and ten members.
There is no need for a marine boat license and you can even be escorted by one of our experienced club members. Why do a boat charter when you can become a crew member of the Pleasure Cruising Club Inc. in Melbourne? Our crew membership is the most affordable way to go on boating trips in Melbourne.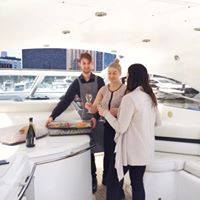 Do you have a special occasion to celebrate or want to offer an ultimate surprise gift? You can pre-arrange a twilight cruise with us. This is how it works- join as a crew member for a nominal subscription fee! We can arrange the sports cruiser to wait for you at the marina with a bottle of champagne. And how about we make it more romantic for you? You arrive later with your partner or special friend and ask if you can have a cruise. Our member skipper can say "Sure, come on board!" and start the cruise. We can also leave you on board overnight. This is a unique luxury boating experience, which you and your partner will never forget!
Crew membership is great for:
* High-speed cruising to your destination in the bay
* Surprise birthday events
* Marriage proposals
* Anniversaries
* On board BBQ and beach parties
* Spring races by sports cruiser
* Entertaining guests from overseas or interstate
* Your own private fishing adventures
* Overnight on board accommodation at the marina with breakfast
* Boating day trips in Melbourne
* Company board meetings
The fleet
Reckless Sunrunner 28: 1-5 members
Show Pony Mustang 32: 1-8 members
Fairview Riviera M400 Sports Cruiser : 1-10 members
Look no further at a boat charter in Melbourne, just join the club! Become a crew member and enjoy our luxury club boats. No marine experience is required. We take care of the rest, for sure!